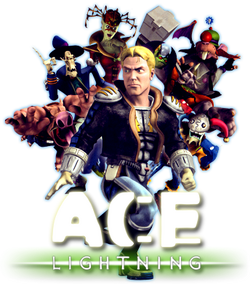 Ace Lightning is a British and Canadian children's television series co-produced by the BBC and Alliance Atlantis, which originally broadcast in the United Kingdom but was also aired in other countries including the United States, Australia, New Zealand and South Africa.
The programme featured live actors interacting with computer animated characters from a fictional video game. The series is significant in that until its creation, live action and CGI had not been attempted to such a huge and constant degree within a weekly television serial.
Episodes
Edit
List of episodes.
In chronological order, these are;
Ad blocker interference detected!
Wikia is a free-to-use site that makes money from advertising. We have a modified experience for viewers using ad blockers

Wikia is not accessible if you've made further modifications. Remove the custom ad blocker rule(s) and the page will load as expected.